Englewood, United States – August 31, 2023 / ASA Ventures Group /
ASA Ventures Group, a prominent Denver-based investment bank renowned for its expertise in facilitating mergers and acquisitions for lower middle market businesses, celebrates a significant achievement. The firm proudly announces that it has emerged as the second-ranked company in Axial's highly esteemed Q2 2023 Lower Middle Market Investment Banking League Tables.
Axial is a private deal network serving professionals who own, advise, and invest in North American lower-middle market companies. Axial's deal-sourcing and deal-marketing tools are used to facilitate the discovery and execution of transactions that meet the following criteria:
Geography: US & Canada based businesses
Revenue: $2.5M – $250M
EBITDA: $250K to $25M
This recognition solidifies ASA Ventures Group's commitment to excellence and positions it as a trusted partner for businesses seeking exceptional M&A services. With its robust track record and comprehensive industry knowledge, ASA Ventures Group continues to spearhead transformative deals and propel growth within the lower middle market sector.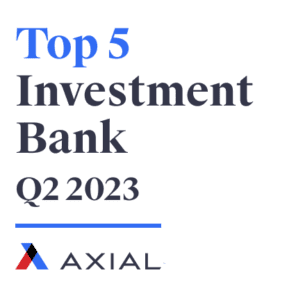 ABOUT ASA VENTURES GROUP
ASA Ventures Group, a leading investment bank focused on providing M&A services to lower middle market businesses, today announced that it has ranked number 2 in Axial's Q2 2023 Lower Middle Market Investment Banking League Tables. ASA Ventures Group specializes in helping healthcare business owners find the perfect buyer at the highest valuation through our competitive process.  We also work with companies in all industries, including technology and staffing.
YOUR PATH TO GROWTH
ASA Ventures Group offers companies a growth path that goes beyond traditional organic growth strategies. The primary reason companies pursue M&A is to accelerate their growth. Instead of relying solely on internal resources and capabilities, M&A allows companies to tap into new markets, gain access to new products or technologies, and increase their customer base.
By combining forces with another company, synergies are often created, resulting in improved efficiency, increased market share, and enhanced competitiveness. This growth path can be particularly attractive for companies looking to quickly expand their footprint or establish a dominant market position.
INVESTMENT & VENTURE CAPITAL OPPORTUNITIES
Lower middle market investment banking league tables are a vital tool for professionals and investors in evaluating the performance of these institutions in the lower middle market sector. The lower middle market refers to companies with annual revenues between $5 million and $500 million. These league tables provide a comprehensive ranking of these banks based on their deal activity and market share.
ENTERPRISE VALUE EXPERTS
In Q2 2023, ASA Ventures Group marketed 4 deals with a combined value of over $100 million.
"We are honored to be ranked number 2 in Axial's Q2 2023 Lower Middle Market Investment Banking League Tables," said Jim Audette, President of ASA Ventures Group. "This ranking is a testament to the hard work and dedication of our team. We are committed to providing our clients with the best possible service and to helping them achieve their M&A goals."
ASA Ventures Group is a full-service investment bank that provides a range of M&A services, including financial analysis, marketing and outreach, negotiation, and deal closing. The company has a team of experienced professionals with a deep understanding of the lower middle market.
M&A TRANSACTION ADVISOR: The primary roles of an M&A transaction advisor is to assist companies in identifying potential acquirers or merger partners. This involves conducting thorough market research and due diligence to evaluate the financial health, growth potential, and cultural fit of a business in combination with an acquirer. By understanding the strategic goals and vision of their clients, advisors can help identify the most suitable opportunities to pursue.
PRIVATE EQUITY PRINCIPALS: Sourcing and evaluating potential investment opportunities play a crucial role in the world of finance and investment. Private equity firms typically focus on acquiring or investing in companies with the goal of improving their performance and generating attractive returns for their investors. The principals within these firms are the key decision-makers who lead and oversee the entire process.
After a successful acquisition, the M&A private equity principals continue to provide strategic direction and oversight to the acquired company. They work closely with the management team, utilizing their industry expertise and network to drive operational improvements, accelerate growth, and enhance the company's value. This active involvement may involve implementing new business strategies, making operational changes, or exploring synergies with other portfolio companies.